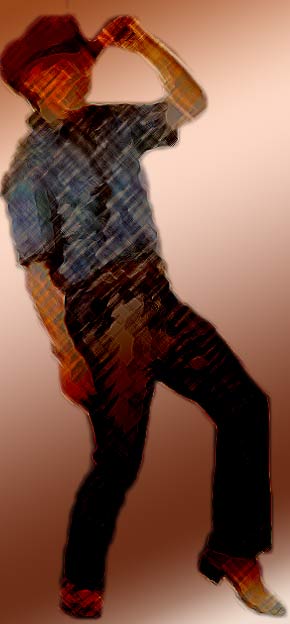 You've seen it or you've heard about it and now you can read about learn how to line dance for beginners. First of all you SHOULD – mainly because it is so much fun and great exercise. If you are not sure how to get involved, let me give you some starting suggestions.
Line Dancing DVDs
If you are a little shy or lack confidence to attend classes or you simply don't have a class in your area, you will get a great deal of fun learning from a good set of DVDs for beginners.
They will propel your skills and knowledge while teaching you the most popular terms and steps. If you do attend a class, using line dancing instruction DVDs will give you a huge leg up.
STEP SHEETS
Although the hardest way to learn, and probably not for absolute beginners, once you get a little understanding of how line dances are structured as well as some terms you will find it quite easy to learn from linedance step sheets.
Basically they are a written form of the choreography showing you how to linedance step by step (A breakdown of the dance including the number of beats required to fulfil each step or section should be included).
Then, beginning with a slow rhythm track and building up speed, you will soon become a master of the dance. A very popular place to find step sheets is from the kickit line dance site.
CLASSES
By far the best way to learn line dancing is to attend a line dancing class in your local area. Here is a short list of reasons for attending a class.
Personal instruction (you will need to find a good instructor, and you may have to try a few to find one that you are comfortable with)
Watch others (you should also find they will be more than willing to help you).
Meet and socialize with other line dancers – Adds to the fun of it all.
Keeps you motivated.
Practice
Although not necessary, you will find your dancing will dramatically if you practice at home with either step sheets or a DVD as outlined above. You don't need to spend a lot of time, just 10 minutes – 2 or 3 times a week (obviously more if you can find the time, especially in the beginning).
This will reinforce the dance in your mind and you should even find your fitness improving. What a bonus!
Reasons to learn how to linedance are many and include
Health and Fitness
Gain self confidence
Friendship
Lose weight through fun exercise
Fun and enjoyment – even if you don't have a partner
Your Brain will get a workout too.
What to do next?
Make some phone calls or search the internet for classes in your area.
Check out the DVD's I have recommended.
Ask a friend who may know of someone who dances
Whatever you do, don't put it off any longer and learn how to line dance for beginners.