Line dancing for seniors is a fun, healthy and rewarding activity and exercise, especially if you are coming up to, or graduating into, retirement.
Benefits Of Line Dancing For Seniors
You don't need a partner:
A big problem can be lack of dance partners. You don't need one.
Friendship & Fun:
With a group of likeminded people you will have a lot of fun.
Health Benefits:
Studies have shown that Line dancing is great for your health.
Lose weight:
With all the exercise you get it is not uncommon to also experience weight loss.
Active Mind:
Each song has a different dance choreographed to it – You will never get bored.
Confidence:
Just by learning something new will boost your self confidence. The more you learn the more confident you will become.
Some people when they reach "Seniority" just seem stop living while other take it full on and start doing things they never had time to do.

Things like line dancing or bowls. Which one is best – well that is probably up to the individual.
Why Seniors Should Be Line Dancing
Have fun
Get out of the house and meet people
Exercise
Something new and different
Great music
Live
Read more about The Benefits of Learning to Line Dance.
Where to learn line dancing for Seniors
There are many great ways and places to learn to line dance
1) Learn at home with Line Dance DVDs
Of course it's always good to get out and dance with other people but it may not be possible for some due to transport problems, remoteness, lack of confidence just to name a few.
If it is the latter you will probably soon be ready once you have learned a few dances at home.
Liz Collett has some great line dance DVD's that take you gradually from beginner through to more advanced line dances learning different line dance steps along the way.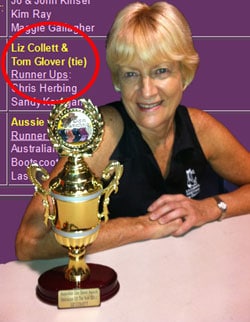 Here is what people say about her DVDs
"…at age 63 have found the perfect DVD's and virtual teacher!!"
"You truly have wonderful teaching DVDs with enjoyable music."
"Thank you so much for doing these DVDs as it opens a whole new world for someone like me."
Read more testimonials here…
2) Local Classes
Just look up your local over 50's paper or a quick Google search will show you the classes and clubs in your area. Find out when they have a beginner class starting and get involved.
Don't put it off.
If you can't find a class starting now, get hold of a recommended line dance DVD and start the ball rolling.
So don't put it off any longer! Start now and you will never look back. Dancing is not for everyone but line dancing for seniors can be a great outlet for so many reasons as described above.
Give it a try at least. You just never know.
Learn to line dance – The 3 Most Popular Ways 4 Beginners